Cry To Me
I'll Be a Liar
His Kiss
Just Like Mine
Featured Artist: Betty Harris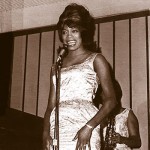 "That's not the way I feel it," Betty Harris said as she stormed into Bert Berns' office at 1650 Broadway in the summer of 1963 to tell him that he could have done better with his production of Solomon Burke's "Cry To Me." Stunned and amused, Bert sat back in his chair and asked the brash young singer just how she would have done it. Betty slowed down the tempo and turned up the soul. Midway through her gut-wrenching gospel-inspired audition, Berns stopped Harris and called to book time at Bell Sound Studios. The resulting dozen tracks Bert Berns made on Betty Harris for Jubilee are among the best-kept secrets from the golden era.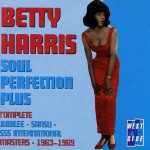 Born Betty Crews in 1939 to a family of preachers in Orlando, Florida, Betty left the deep south for the Big Apple at the young age of 17 to pursue her dream of singing secular soul music. She apprenticed and hit the road with "mentor, confidante and tutor" Big Maybelle. But it wasn't until her meeting with Bert Berns that she was able to show the world the true range of her talents. "After just three takes in the studio," Harris recounted, "everybody was crying." Betty's remake of "Cry To Me" (lifted by arranger Garry Sherman and background singers The Sweet Inspirations) raced up the pop and R&B charts – even surpassing Solomon Burke's rank. Her scorching recordings of Berns' "I'll Be A Liar," "His Kiss," and "Just Like Mine" (dig the studio chatter with Bert on the talkback) are further example of the raw and "sublimely emotional performance" that distinguished Harris from the rest.
In 1965, Betty Harris teamed up with legendary New Orleans producer Allen Toussaint and recorded brilliant sides for his fledgling Sansu label. But with her career at an impasse, Harris abruptly retired from the business in 1970 and disappeared from the public eye for over three decades. All the while, with speculation mounting as to her whereabouts and her legend and legacy growing with the years, Betty Harris was quietly raising a family and singing in her church choir. According to Jason Ankeny in allmusic.com, "Harris remained oblivious to the growing awe afforded her '60s output by soul aficionados," and her sudden reemergence in 2004 after her daughter discovered several internet fan sites "caused a stir in deep soul circles." Betty Harris is now working with Bill Elder (The Dynamites), and is headlining live across Europe and the States once again.