Piece Of My Heart
Open Up Your Soul
Featured Artist: Erma Franklin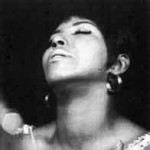 Erma Franklin may have spent most of her life in the shadow of her younger sister Aretha, but her original recording of Bert Berns' "Piece of My Heart" stands shoulder-to-shoulder with the greatest hits of the generation. And as with so many other of the artists who worked with Berns, one can only imagine the heights to which she would have achieved had Bert Berns lived to further champion her career.

Born on March 13, 1938 in Shelby, Mississippi, Erma Franklin was raised in Detroit, Michigan, where her father was pastor of the New Bethel Baptist Church. Erma and her sisters Aretha and Carolyn sang in the church's gospel choir throughout their childhood, and when Aretha became a full-time recording artist, Erma provided background vocals and toured with her sister. After completing her studies in business administration at Clark College, Erma moved to New York City and signed to Epic Records in 1961, followed by a five-year stint as featured vocalist with the Lloyd Price Orchestra. But it wasn't until she signed with Bert Berns' Shout Records label in 1967 – the same year that her sister's career took off at Atlantic Records – that Erma Franklin achieved, for the briefest of moments, the heights of a Queen of Soul.

"Piece of My Heart" was recorded in August of 1967 and immediately went into the Top Ten of the R&B charts. Erma was even nominated for a Grammy award. But with the song working its way up the charts and into the subconscious mind of Janis Joplin, Bert Berns suffered that fatal heart attack. Plans to produce a first complete Shout album (which would have included Berns' follow-up single "Open Up Your Soul") were subsequently shelved, and the brilliant Erma Franklin would fade back deep into the shadow of her legendary sister once more. Erma spent the rest of her life working in service to children at Boysville of Michigan, until succumbing to cancer on September 7, 2002.