Are You Lonely For Me Baby
Am I Grooving You
Cry To Me
No One Could Ever Love You
Featured Artist: Freddie Scott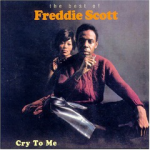 According to soul aficionados, Bert Berns' Freddie Scott LP "Are You Lonely For Me" is one of the greatest albums released during the golden age of soul. Brought to Berns' Shout Records label by close friend and artist manager Carmine "Wassel" DeNoia, Berns took Freddie Scott into the studio and made some of the best work of their lives. The title track "Are You Lonely For Me Baby" went straight to number one on the R&B charts for four weeks, and Freddie Scott was voted Number One Newcomer in Cashbox Magazine. Only the death of Bert Berns prevented the world from truly knowing and appreciating the "distinctive, powerful and extremely soulful tenor" of the great Freddie Scott.
Born in Providence, Rhode Island in 1933, Freddie Scott began singing with his grandmother's Gospel Keyes at age eleven. In the late 1950s, Freddie moved to New York City, where he worked as a songwriter for Aldon Music and a demo singer for a variety of songwriters and producers. But it was his hit single "Hey Girl" on Columbia Records in 1963 that put Freddie on the map. Unable to recreate that success with a follow-up hit, Freddie's manager Wassel convinced Columbia to release his artist (under threat of pain), and brought him over to Berns' newly established Shout Records.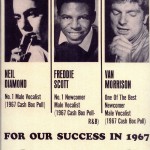 With the overwhelming success of Bert Berns' Bang Records and it's ever growing roster of pop artists, Bert created Shout Records as an outlet for his greatest passion – R&B and soul music. The nine Freddie Scott singles recorded by Bert in 1966 are best evidence of this passion, from the hit "Are You Lonely For Me Baby" (recorded over 100 vocal takes) to the relatively unknown "No One Could Ever Love You." And Freddie's impassioned take on Bert's epic "Cry To Me" is perhaps the best version of the song ever recorded. Listen closely and you can hear the sound of Freddie's tears falling.
"One of the milestones in the history of real soul music… this album is like being in a deep soul heaven." That's how the experts describe the work of Bert Berns and Freddie Scott. And like so many other of the artists associated with the life of Bert Berns, Freddie Scott's star eclipsed with the death of the songwriter and producer responsible for his most inspiring work. The great Freddie Scott passed in 2007.