Cry Baby
One Girl
Look Away
It Was Easier To Hurt Her
I'll Take Good Care Of You
Featured Artist: Garnet Mimms
Though not as widely known as many of his contemporaries, Garnet Mimms – with the guidance and direction of Jerry Ragovoy and Bert Berns – made soul ballads that are as brilliant as any to come from the golden age, best evidenced by the transformational hit "Cry Baby." And though excellent examples of the Berns / Ragovoy collaboration can be found throughout their respective discographies (such as Erma Franklin's "Piece of My Heart" and Lorraine Ellison's "Heart Be Still"), some of their finest and most consistent work together is found in the music of Garnet Mimms.
Born in West Virginia in 1933, Garnet Mimms grew up in Philadelphia, where he sang gospel music alongside his mother from a very early age. His immense talent recognized from the start, Mimms sang with a number of vocal quartets in the 1950s before spending several years in the military. But it wasn't until the creation of Garnet Mimms and the Enchanters and his move to New York City in the early 1960s that he achieved his greatest commercial success.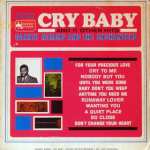 After auditioning for songwriter/producer Jerry Ragovoy, "Rags" took Mimms into the studio with Bert Berns in 1963 and recorded what was to become one of the seminal songs in the emergence of soul music – "Cry Baby." With Cissy Houston and The Sweet Inspirations providing background vocals, "the song was a gospelized production so full of the soul-saving, fire-and-brimstone ecstasies of the black sanctified church that it singularly stood apart… With "Cry Baby," Garnet Mimms and The Enchanters were firing the first shots in the soul music revolution." (Robert Pruter – The Best of Garnet Mimms) Picked up by United Artists, it shot up to number four on the Billboard pop chart and number one on the Cash Box R&B chart. (Years later, Janis Joplin would cover the song on her Pearl album.)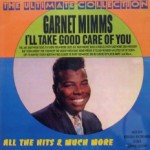 Berns and Ragovoy would continue to write and produce for Garnet Mimms throughout the mid-sixties, making such delicacies as "One Girl" and "Look Away". Their final collaboration with Mimms was the stunning 1966 hit "I'll Take Good Care of You," which went to number nine and lasted 16 weeks on the Cash Box R&B chart.