Tell Him
A Little Bit of Soap
You Better Come Home
Soul Motion
You Got Love
Run Mascara Run
Featured Artist: The Exciters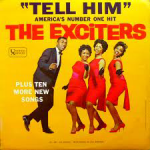 The Exciters hold a special place in the Bert Berns repertoire – and in his heart – as they were the only group to work with Berns from the beginning of his career to the very end. And the Exciters' enduring classic "Tell Him" marked both Berns' arrival as one of the great songwriters of the era and the beginning of an important relationship with Leiber and Stoller (who produced the track). Berns loved the quartet so much that they were the only group to record for both his Bang and Shout record labels, where he made some of his best records with the Exciters in those final days.
Originally a group of seventeen year-old classmates from Jamaica, Queens called The Masterettes, Brenda Reid, Carol Johnson and Lillian Walker joined with male vocalist Herb Rooney in 1961 to become the first in a new breed of vocally aggressive girl groups, and one of the only such outfits to include a man in the lineup. When the group came to the attention of producers Leiber and Stoller, they were so excited that they renamed the quartet the Exciters. The next thing they did was give them a song they'd discovered by a promising new songwriter that would write the Exciters into the history books – "Tell Him." Released on United Artists in the winter of 1962, the song went into the top five of both the Pop and R&B charts.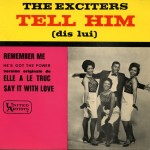 "With their no-nonsense, street-smart approach, the Exciters ushered in the heyday of the girl group sound via the classic "Tell Him." Eschewing the demure puppy-love sensibilities of previous girl group records, "Tell Him" boasted an intensity that signified a sea change in the presentation and perception of femininity in popular music, paving the way for such tough, sexy acts as the Shangri-Las and the Ronettes." (Jason Ankeny, allmusic.com)
Managed by Bert Berns' close friend Carmine "Wassel" DeNoia, the Exciters moved from United Artists (where they also recorded Berns' "Get Him") to Morris Levy's Roulette Records (where they recorded Berns' "Run Mascara Run") to Bert Berns' new Bang Records (where they recorded Berns' first hit "A Little Bit of Soap"). And when Berns formed his Shout Records subsidiary in 1966 to release R&B exclusively, he wrote and produced such rare gems as "You Got Love" and "Soul Motion." Only Bert Berns' death the following year put stop to this most unique and ever-exciting collaboration.